Dilbert Hack Page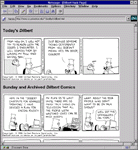 This page is presented for research and scholastic purposes to document the basis of my dispute with United Media. It should be of continuing interest to intellectual property lawyers as well as computer security researchers.
As of 4 August 1996, this is what the Dilbert Hack Page looked like. If you're looking at it after 18 August, the last remaining image on this page will have expired from United Media's server.
If you select View / Document Source in your browser, you'll see how the Hack worked.

---
Today's Dilbert
Sunday and Archived Dilbert Comics
---
Dan Wallach, CS Department, Rice University Last modified: Sun Aug 4 02:00:52 EDT 1996