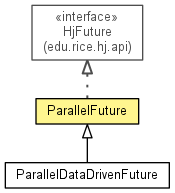 edu.rice.hj.runtime.baseruntime.ParallelFuture<ValueType>
---




public class 

ParallelFuture<ValueType>


extends Object
implements HjFuture<ValueType>

A thread blocking implementation of HjFuture. It uses a java.util.concurrent.CountDownLatch to keep track of when the value becomes available.
Method Detail

put

public final void put(ValueType newValue)

Associates the specified value with the HjFuture. This operation may fail if the single assignment property is violated.

Parameters:

newValue - The value to store into the futureNb.

resolved

public final boolean resolved()

Returns whether the futureNb has been resolved, i.e. the value has been computed. A failed future is also classified as resolved.

cancel

public boolean cancel()

Attempts to cancel execution of this task. If this task has not started when cancel is called, this task should never run its body. If the task has already started, then the task will not be interrupted and the task will run to completion.
Copyright © 2015 Rice University - Department of Computer Science. All rights reserved.